Prudence I. Koopa, called Pru for short, is a female Koopaling that loves Magic, Cooking, Playing Pokemon and StreetPass Mii Plaza, and Writing Mangas or stories mainly about Nintendo characters. She is 13 years old and has a Brown shell. She has a Brown wand also.
Appearance
Pru has Cream colored skin with a Pink Belly. She resembles wendy mostly accept for the fact that her Bow is blank and smaller, her Necklace resembles Berries, and she has a Ponytail. She has a small green bow and green Shoes and rings. She has tanner cheeks with a pink face.
Personality
Prudence is nice and laid back. She has lots of friends. She is somewhat shy or could even be called a bit of a coward. But usually she stands up for what is right. She likes cooking and usually spends time cooking for the other Koopalings.
Relations with other Koopalings or characters.
Morton: She thinks Morton is cool when he isn't grumpy, but usually doesn't hang out with him because he usually IS grumpy.
Wendy: She has mixed feelings about wendy.
Roy: She HATES Roy.
Lemmy: She likes Lemmy and knows that he is not very smart, so she tries to keep it simple with him.
Iggy: She thinks Iggy is crazy.
Larry: She dislikes Larry.
Ludwig: She thinks Ludwig is well mannered, but snobby.
Bowser Junior: She thinks Bowser Junior is a brat, but nice when he is calm.
Trivia
She is known to like Eggnog (Not the spiked one, that would be bad!)
She has 589 StreetPass Tags
She thinks Mario shouldn't like Peach because she is disrespectful to him.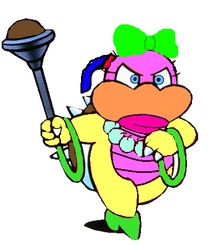 Ad blocker interference detected!
Wikia is a free-to-use site that makes money from advertising. We have a modified experience for viewers using ad blockers

Wikia is not accessible if you've made further modifications. Remove the custom ad blocker rule(s) and the page will load as expected.