Prince Nolan Cody Koopa

Nolan C. Koopa's old design

Current Age
20
Date of Birth
December 1995
Gender
Male
Aliases / Nicknames
Poseidon Koopa
Living Town
Dark Land
Class
Villain
Main Weapon(s)
Water wand, Water Star
Main Element(s)
Water
Vulnerable to
Fire Star
Relative(s)
Abel R. Koopa (brother), Aidan T. Koopa (brother), Niko Koopa Sr. (father), Jessica Koopa (mother), Aiva O. Koopa (friend), Niko Koopa Jr. (brother)
"BLAGH, SUGAR RUSH!"
—Nolan C. Koopa in his insanity personality
Nolan Cody Koopa is the most insane of the koopalings. His eyes are multicolored. His hair is multicolored and has a dark blue pony tail. His shell is lime green with red rings. His favorite brother is Aidan T. Koopa. He is the 2nd fastest koopaling (fastest being Aiva).
Appearances
Super Mario Bros. 3
Nolan is so hyper and fast, he slipped into ice and Mario defeated him?
Super Mario World
He ruled Nolan's Ocean Bay.
Trivia
Aidan T. Koopa was suppose to be the most hyper, but Nolan is the most hyper in his appearances.
Nolan was suppose to be twins with Aidan, but Aidan's twin is Xenon Koopa
Gallery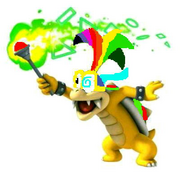 Ad blocker interference detected!
Wikia is a free-to-use site that makes money from advertising. We have a modified experience for viewers using ad blockers

Wikia is not accessible if you've made further modifications. Remove the custom ad blocker rule(s) and the page will load as expected.