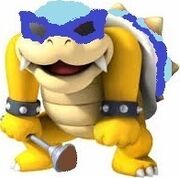 Henry is just like Roy, but has dark blue sunglasses and shell and has blue  head and rings surrounding each spike. He also has a brown magic scepter. He was named after Horrid Henry. He is stronger and meaner than Roy.
Super Mario Bros. 3
Henry doesn't appear in the game because he got a flue.
Super Mario World
Like Roy is blue it was Henry. He is a bit dumb in this game. Roy bullied his dad so Bowser flushed him down the toilet.
Mario is Missing!
Henry doesn't appear in this game, but Roy mentions him.
Hotel Mario
Henry ate Iggy's castle. Iggy's castle was named "Iggy's Invention-Idea Hotel".
Yoshi's Safari
Henry ate a cactus and became spiky, because he actually wasn't meant to have spikes.
Mario and Luigi:Superstar Saga
Henry was a retard.
New Super Mario Bros. Wii
Henry destroyed Petey Piranha's jungle house when Mario was in World 2. Then Petey Piranha ate Henry and made an even better house when Mario was in 5-1.
Death
Henry died in the falling castle, dressed up as Roy. (The koopalings who were unharmed were Larry, Lemmy and Roy.
Ad blocker interference detected!
Wikia is a free-to-use site that makes money from advertising. We have a modified experience for viewers using ad blockers

Wikia is not accessible if you've made further modifications. Remove the custom ad blocker rule(s) and the page will load as expected.